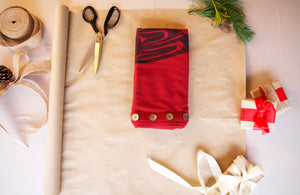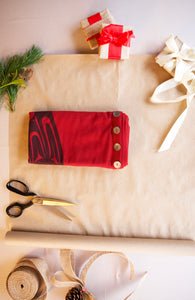 Holiday Mystery Gift Boxes
Back for the Holiday Season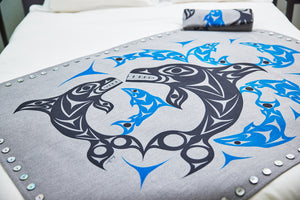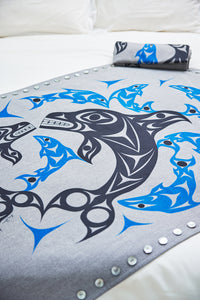 Indigenous Designed Luxury Blankets
Check out the new design by Gerry Sheena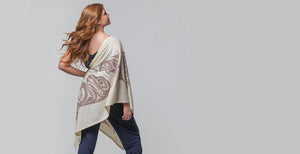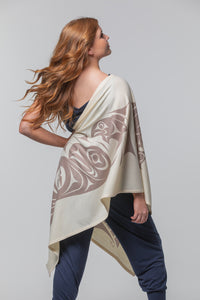 The Spirit Collection
Partnerships have included Corrine Hunt, Debra Sparrow, K.C Hall and Gerry Sheena.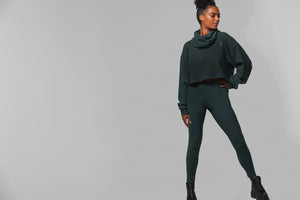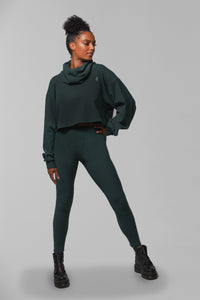 Our Fall Clothing
Get cozy with our Leggings and Cropped Gaiter this Season
Collaboration
Working in transparent, honest and full collaboration with artists of diverse backgrounds in a collective space through art and fashion.

Sustainability
Our products are made with innovative regenerated up-cycled materials. Our recycled fabrics divert waste from landfill. 
Made In Canada
100% of our brands products are Made in Canada and have been manufactured within our own community.
Art & Design
We are a company devoted to excellence and innovation in art, design and fashion through mentorship opportunities for indigenous artists and designers.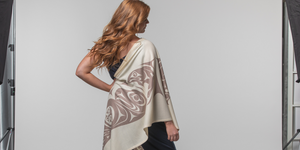 Collaboration
We believe that collaboration is vital in helping overcome the inertia of generations of systemic inequality. Working in transparent, honest and full collaboration, we value craftsmanship, innovation in a collective space through art and fashion.

Partnerships have included Corrine Hunt, Debra Sparrow, K.C Hall and Gerry Sheena.
Learn more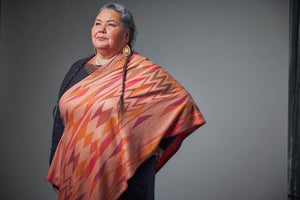 Spirit Wraps
To support and celebrate Indigenous and Non-Indigenous peoples working together.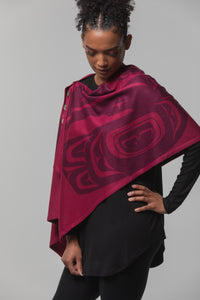 Sustainable Luxury
Craft & Community
Our products showcase exceptional artisanal skills and techniques and adhere to fair trade principals.
Our Promise
We are taking steps to minimize the industry's carbon footprint and implement ethical practices  without ever compromising on style. And all made in limited quantities.
"When done right fashion can uplift and empower the wearer, giving them the confidence to go out and to do what they're born to do."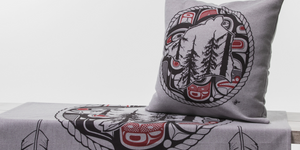 Luxury Home Decor
A collection of luxury home decor to enhance any room.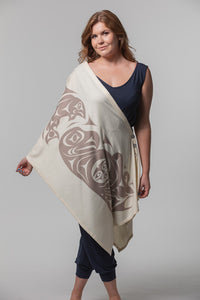 Eternal Connection Collection
Salmon is a symbol of journey, strength, and endurance. Qualities we all possess. Eagle is elegance, pride, wonder, and truth. A messenger, it takes our prayers and delivers them to the heavens. Together they have an "Eternal Connection." By Artist Gerry Sheena
Shop Now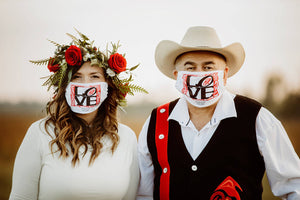 Community Collaboration
Meaningful community engagement and lasting partnerships
Love the leggings!

"Absolutely LOVE these leggings, as does everyone I show them to. They are so comfy and cozy, yet stylish and sleek. Love the natural bamboo fibre. I am wanting a pair of brown XL's as soon as they are available! "

— 

Lacy
Best leggings ever!

"Want to let you know how perfect these are. I believe you really do make the best ever leggings. Thanks and keep up the good work. I am so happy to be able to buy such great products locally. Best wishes,"

— 

Marnelle
Amazing product!

"I just wanted to let you know that the top and leggings I ordered are WONDERFUL. I am so happy to order from a Canadian company, designed in Canada, MADE in Canada and ethically sourced to boot!

— 

Laurie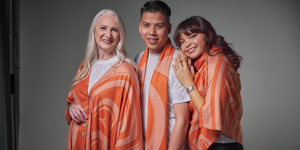 Artist Collaborations
Art, Fashion And Connections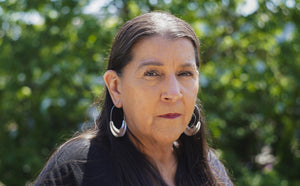 Debra Sparrow
Debra Sparrow was born and raised on the Musqueam Indian Reserve and is self-taught in Salish design and jewellery-making. Her work can be seen in various museums and institutions.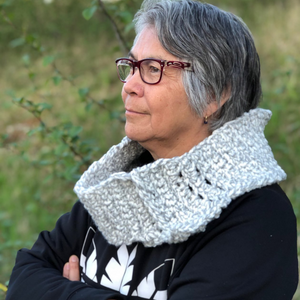 Corrine Hunt
Corrine Hunt (born 1959), also known as Nugwam Gelatleg'lees, is a Kwakwaka'wakw/Tlingit artist, carver, jeweller and designer based in Vancouver, British Columbia.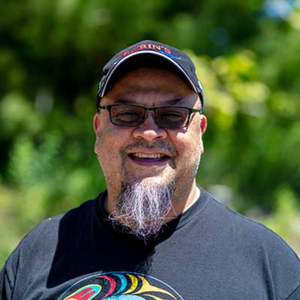 Gerry Sheena
Gerry Sheena was born in Merritt, BC, and is a member of the Interior Salish Nation. While Gerry is of Salish descent, he has carved a variety of styles for over three decades.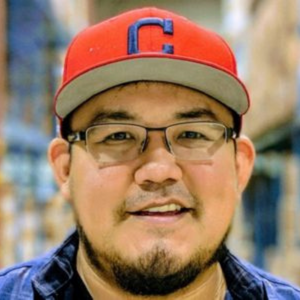 K.C Hall
KC Hall was born in Bella Bella, BC, and was raised in East Vancouver. Currently, KC is is combining traditional Northwest coast design elements with his own distinctive style.